Appeal after kitten found abandoned in Aberdeen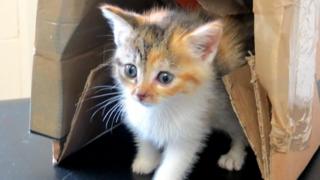 The Scottish SPCA has appealed for information after a kitten was found abandoned in a box in Aberdeen.
The kitten - which has been named Tootie - was discovered in the Marywell area close to a quarry at Cairnrobin.
The kitten is believed to be less than one month old.
Senior animal care assistant Jacki Bell said: "Dumping Tootie in a remote spot was very cruel and she must have been really frightened. Thankfully, Tootie is healthy and happy."
'Too young'
She added: "It was clear she had been abandoned as she was left under a box which had been made into a shelter along with a blanket and toy.
"Tootie is too young to be outside by herself and she should still be with her mother so one of our staff members is currently fostering her and giving her round-the-clock care.
"We think Tootie has been someone's pet until now as she is extremely friendly, indicating she has had a lot of human interaction.
"We wish to stress we will not be taking any rehoming inquiries for her at present as she is still so young.
"We would however appeal to anyone who recognises Tootie to contact us and help us find the person responsible for abandoning her."
The kitten is being cared for at the Scottish SPCA's animal rescue and rehoming centre in Drumoak.