Men shot by 'Monocled Mutineer' in Tomintoul honoured 94 years later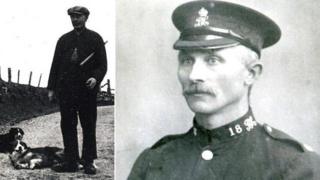 Two men who were shot by an army deserter who became known as the "Monocled Mutineer" have been honoured 94 years later.
PC George Greig and farmer John Grant were wounded by Percy Toplis in a bothy near Tomintoul in 1920.
Toplis was on the run for murdering a taxi driver, and was later shot dead.
Police Scotland has now presented the families of the two injured men with official commendations to mark their involvement.
Toplis was suspected of being the ringleader of a mutiny in France in 1917.
He later posed as an officer, complete with monocle, which led to his nickname.
His story featured in a BBC TV drama starring Paul McGann.
Toplis had been hiding out in the bothy in Moray after fleeing England.
He broke up chairs and fence posts to make a fire, but the smoke from the chimney alerted local gamekeeper John McKenzie, who went to the scene with PC Greig and Mr Grant.
The two men were shot by the fugitive, while Mr McKenzie escaped unhurt to raise the alarm.
Toplis left the scene on a bicycle.
He caught a train in Aberdeen and was later spotted near Penrith in Cumbria, where he was cornered and killed.
The two injured men recovered from their injuries but were given no official recognition at the time.
Ch Supt Mark McLaren presented the awards to Alistair Greig from Collieston, the grandson of PC Greig, and Iain McAllister from Elgin, the grandson of Mr Grant.
He said: "I felt that it was only fitting, even after all this time, that these men were given full and proper recognition for what happened.
"It is a remarkable story that has gone down in folklore and the men deserved to be honoured for their part in what happened."
No trace of any relatives was found for gamekeeper Mr McKenzie, who is buried at Tomintoul.
However, an official commendation has also been made for his relatives should any come forward.