Appeal after lamb and ewe discovered at Aberdeen Science and Energy Park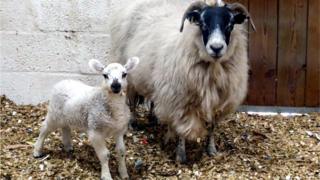 The discovery of a ewe and her lamb at the Aberdeen Science and Energy Park has prompted an appeal by the Scottish SPCA.
Workers spotted the pair - now named Annabelle and Charlie - at the industrial area in the Bridge of Don.
Efforts to trace the owners have so far failed.
The Scottish SPCA said that the ewe's registration had been traced to Rasaay, off Skye.
Animal rescue officer Lynne Craib said: "Annabelle and Charlie were oddly found wandering around an industrial area with no sheep fields close by.
"There was a tag number on Annabelle, however the owner has not kept their details updated so this hasn't helped us in tracing them.
"Police have contacted farmers within a five-mile radius of where the two were found but so far no-one has claimed them.
"We're hoping someone will realise they are missing and come forward. If not we'll find them both a new home."
The ewe and her lamb are now in the care of the charity's Aberdeenshire animal rescue and rehoming centre in Drumoak.