Aberdeen Royal Infirmary consultants 'fear for safe A&E care'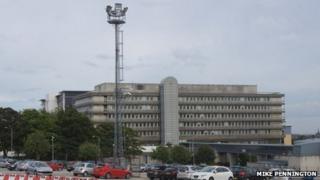 Accident and emergency consultants at Aberdeen Royal Infirmary are worried doctors will not be able to provide the "safe care" of patients because of staff shortages, a report has revealed.
A recruitment drive is ongoing as the number of "senior" A&E doctors could have dropped from 10 to two by August.
The report from consultants said they feared doctors being unable to resuscitate the most serious patients.
NHS Grampian said "appropriate medical cover" was of "key importance".
Scottish Labour said the health board had been "grossly underfunded" by the Scottish government but Health Secretary Alex Neil said any additional support the board required to meet its recruitment would be provided.
The staffing issue was being discussed by the NHS Grampian board on Friday morning.
Dr Roelf Dijkhuizen, the medical director at NHS Grampian, told BBC Scotland a number of posts had been filled and he was "optimistic" of raising the number of A&E doctors to eight soon.
The NHS Grampian consultants group report on the emergency department notes a "significant gap in the cover" provided due to the level of current doctors.
It states: "Of particular concern has been the 'middle grade' vacancies that the department expects in August 2014, particularly at the senior level of doctor in training, who has the skills and competences to act as decision maker.
"In August 2013, there were 10 doctors at senior level who could fulfil this role. From August 2014, it is projected there there will only be two such doctors.
"The consultant group's principal concern is that they will not be able to continue to provide safe care for patients in need of their agreed primary role i.e. resuscitation of those with life and limb-threatening conditions.
"As well as patients, they are also concerned about the potential impact on all staff who work in the emergency department, unscheduled care and the rest of the hospital.
"Discussions on cover are under way, including on remuneration and terms and conditions, should local staff be required to provide cover for some of the gaps identified."
Offering posts
Dr Dijkhuizen said there were a number of factors that contributed to difficulties recruiting junior doctors into training for the A&E profession.
The NHS Grampian medical director said the workload in A&E had increased and there were now far more people who were "not acutely unwell" attending accident and emergency.
He said junior doctors were finding dealing with the chronic illness of elderly patients in A&E "less challenging" and the discipline had become "less attractive".
Dr Dijkhuizen added: "Quite often when we think have got hospital crises, actually the crises originate because there is not enough clinical capacity and not enough social support in the community for patients who are very vulnerable.
"If then that care at home falls apart these patients end up in the A&E department."
Dr Dijkhuizen said that he did not think levels of pay were a major factor in the problems recruiting doctors.
North East Labour MSP Lewis MacDonald called on the Scottish government to provide NHS Grampian with more money.
He told BBC Scotland: "Clearly there is an issue here that needs to be addressed and my concern is that NHS Grampian, once again, is facing huge difficulties finding the staff that it needs, including the senior staff that it needs, as a consequence of its gross underfunding by the Scottish government."
Previous warning
Health Secretary Alex Neil said: "NHS Grampian have assured us that they are taking all necessary steps to recruit the doctors they need by August.
"NHS Grampian have already seen positive results from the range of actions they are taking - with two posts already filled, and in this week alone they've progressed three posts to the final stage of agreement, and received notes of interest for a further three posts.
"Through the work of our £50m Unscheduled Care Action Plan, the Scottish government stands ready to provide the board with any additional support they may require in current recruitment round."
The health board said a range of other measures was also being considered to improve the flow of patients from the emergency department to other specialities in the hospital.
In December, more than 20 consultants at ARI wrote to NHS Grampian's board, warning that services in key areas were at breaking point.