Shetland hospital's '12 failures' in caring for the elderly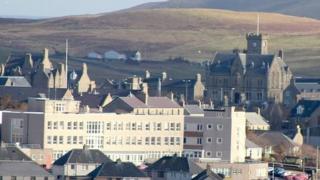 Shetland's Gilbert Bain Hospital has been told it must improve 12 areas of elderly patient care.
Inspectors said the hospital fell short of government standards in catering for older patients' individual needs
Other areas of concern include making sure patients are not kept in hospital longer than they should be and improving working relationships with social work departments.
Healthcare Improvement Scotland said, in general, wards were managed well.
Jacqui Macrae, Head of Quality of Care, said: "This inspection resulted in three areas of strength, 11 areas for improvement and one area for continuing improvement.
"Personalised care plans inspected did not reflect individual patient needs.
Key areas
"We saw an inconsistent approach to the completion of documentation, including discharge planning checklists and adult with incapacity certificates.
"We expect NHS Shetland to address the areas identified for improvement as a matter of priority.
"We will follow-up these concerns at future inspections."
The key areas looked at by inspectors were treating older people with compassion, dignity and respect; dementia and cognitive impairment; preventing and managing falls; nutritional care and hydration and prevention and management of pressure ulcers.
Jacqui Macrae added: "This inspection also highlighted areas where Gilbert Bain Hospital is performing well in relation to the care provided to older people.
"We observed friendly and polite interactions between staff and patients and found mealtimes were well managed.
"Patients spoke positively about the quality of care received."