Funding approved for Bluemull Sound tidal energy project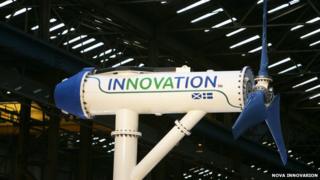 A Scottish energy firm has been awarded funding to create a bank of tidal energy turbines off the coast of Shetland.
Nova Innovation have been awarded £1.85m from the Scottish government to help build the Shetland tidal array.
Five tidal turbines will be installed in the Bluemull Sound site with the generating capacity to power the equivalent of 300 homes.
The firm will partner with Belgium firm Elsa to complete the project.
Scottish energy minister Fergus Ewing said: Elsa's decision to invest in Scotland is a testament to the confidence felt by international investors to help develop the huge wave and tidal energy resources from the waters around the Scottish coast.
"The Scottish government and its agencies will do everything we can to ensure Scotland benefits from the significant economic opportunities the renewables industry presents."
Green future
The company said it planned to increase its number of renewable projects and would present a number of future projects to the European Parliament in Brussels in a bid to secure more funding.
Simon Forrest, managing director of Nova Innovation, said the project would help contribute growth to Scotland's marine energy sector.
He said: "This partnership agreement will accelerate Nova Innovation's technology development; help secure the company's Scottish manufacturing base and expand the integrated supply chain here in Shetland and Scotland.
"The pan-European vision of the partnership will open up export markets and deliver real growth for the marine energy sector."