MPs call for oil companies to face helicopter safety inquiry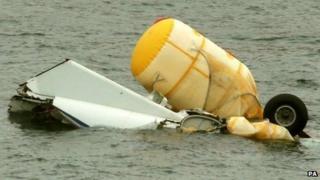 MPs have called for a public inquiry into whether commercial pressure from oil and gas companies affects offshore helicopter safety.
The Transport Select Committee also want a full examination into the role of the Civil Aviation Authority (CAA).
The recommendations are contained in a report which follows the 2013 crash of a Super Puma helicopter near Sumburgh Airport in Shetland.
Four passengers were killed when the helicopter ditched into the North Sea.
The accident was the fourth of its kind in five years.
Committee chairwoman Louise Ellman said: "Despite work by the CAA, serious questions remain unanswered about offshore helicopter safety in the competitive commercial environment of the North Sea.
"We fear a creeping complacency may be affecting safety standards.
'Bullying culture'
"The role and effectiveness of the CAA has not been adequately examined.
"Only a full and independent public inquiry would have the power and authority to investigate properly."
MPs highlighted how the Air Accidents Investigation Branch (AAIB) investigation into the Sumburgh crash uncovered a number of serious issues.
In particular, AAIB found pre-flight safety briefings did not accurately explain how to use the type of emergency breathing system supplied on the helicopter.
Concerns were also expressed about a "macho bullying culture" within the oil and gas industry, including workers who expressed safety concerns being told they should leave their jobs.
Louise Ellman said: "After four accidents in five years, offshore workers' confidence in helicopter safety is understandably low.
"Survivors of the Sumburgh crash told us that they did not use the emergency breathing system provided on the helicopter because the information given to them by the safety video was flawed.
"It is appalling that it took a fatal accident in such circumstances before inadequacies in safety briefing were identified."
She added: "Workers in the offshore industry have the right to know everything possible is being done to keep them safe."
A spokesperson at the Department for Transport said: "It is vital that offshore workers are able to operate in a safe environment. We are working closely with the CAA, as the independent regulator, on this critical issue.
"We are grateful to the committee for its contribution and will respond formally to its report in due course."