Bride and groom Andrew and Kirsty Stewart delighted by rowie wedding cake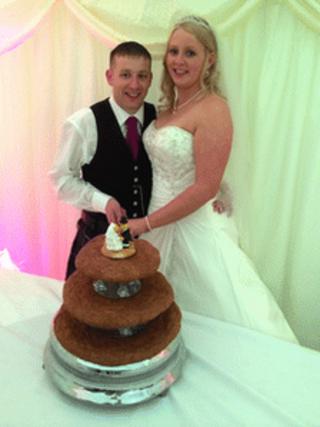 An Aberdeenshire bride and groom celebrated with an unusual wedding cake made of the north east of Scotland delicacy known as the rowie.
Andrew and Kirsty Stewart were presented with the surprise cake at their wedding in Oldmeldrum.
The rowie - also known as a Aberdeen roll or buttery - is made of lard, butter and sugar.
Mr Stewart had joked about such a cake with friend Dianna Smith, but she turned it into a reality.
The three-tiered cake was the equivalent of about 54 rowies.
He said: "It was the most amazing, unique wedding cake ever.
"It was a great surprise, and a big topic of conversation."
Mr Stewart added: "It acted as breakfast and a hangover cure the next day all in one."
Ms Smith, who works at bakers JG Ross in Inverurie, said: "I wanted to surprise Andrew and Kirsty.
"Drew has always been known for his sense of humour and quirkiness, so when he mentioned it as a joke I couldn't resist taking it to the next level.
"They had already arranged a beautiful wedding cake to be made by their bridesmaid's mum, so this was an extra special treat."