Lifeboat hero rescues children from North Sea off Fraserburgh on second call-out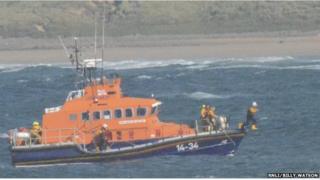 A lifeboat volunteer jumped into the sea to save a boy while on just his second call-out with Fraserburgh RNLI.
John Chalmers rescued Scott Maclean, 12, who was one of three children who got into trouble off Tiger Hill on Wednesday.
He said: "I didn't think about anything. The child needed help. I've got a wee boy myself."
A second child, Isla Sim, 13, was rescued by the lifeboat while a third made it back to shore unaided.
Rescuer John said: "I just jumped off the front of the boat and into the water and got to the casualty. The crew threw a heaving line in and I grabbed it and got pulled into the boat.
"The boy had swallowed a lot of water. I think it was touch and go.
"If we didn't get to him when we did it would have been a different scenario."
Scott said he feared he was going to drown before being rescued.
He said: "The waves ended up splitting me up from Isla and I got scared after that as I thought Isla was under the water.
"I thought I was going to die. I stayed afloat and tried to stay calm."
Fraserburgh Academy pupil Isla told how they were dragged out to sea by the current.
She said: "We were in the water and then the tide took us out. We were in there for longer than 20 minutes. It was really cold."
Fraserburgh and Peterhead lifeboats were sent to the scene, along with coastguard rescue teams, when the alert was raised at about 16:30.
The children were bought back to shore suffering from mild hypothermia. An ambulance took them to hospital for a check, but all three were reported to be fine.
Aberdeen Coastguard Watch Manager Kevin Brown said: "The children we recovered today would not have lasted much longer. The lifeboat crew rescued them just in time.
"It is critical to always check the tidal conditions when swimming in the sea. The weather on scene was fine, but the hidden danger of the strong currents is something the public should be aware of."