Flybe takes on Aberdeen-London City route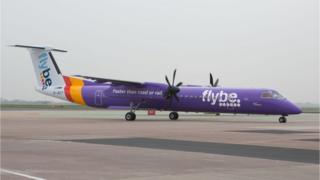 Flybe has announced it will take over the service between Aberdeen and London City airport.
British Airways announced last month it was pulling out of the route in October.
Flybe will operate twice daily flights, by 78-seat Bombardier Q400 aircraft, starting on Monday 27 October.
Carol Benzie, Aberdeen Airport's managing director, said she was "delighted" to see the route filled by Flybe.
She said: "The fact that they plan to launch their service to London City on the day after the previous carrier stops means that our customers will notice no drop in service and, for that, we are very grateful.
"Conversations started in earnest behind the scenes when we heard that the London City route could be lost.
"At that time, the team immediately began to have dialogue and whilst we were unable to discuss these in the public domain, I am pleased that they came to fruition with this announcement."
Responding to the news, a Scottish government spokesman said: "We welcome Flybe's decision to maintain this important business link and their commitment and confidence in the Scottish market.
"We look forward to discussing soon other potential new routes with Flybe to increase connectivity and promote inbound business and tourism."
Earlier, Prime Minister David Cameron said he welcomed the announcement about "a vital route that helps support the north-south economy".
He added: "Keeping our cities connected is part of our long-term economic plan to encourage investment and promote growth so we can generate jobs, pay our way in the world, and create stability, security and a brighter future for our country."