Substation near Donald Trump golf course to go ahead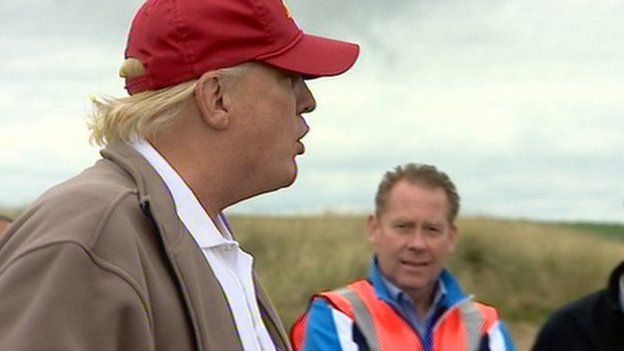 A substation to export electricity from a wind farm which has been opposed by Donald Trump is to go ahead.
Developers won an appeal against an Aberdeenshire Council decision to reject the substation proposal.
The move comes five months after Mr Trump lost his Court of Session fight to block construction of the offshore wind farm.
The appeal was upheld by Holyrood's directorate for planning and environmental appeals.
The substation development at Blackdog is just a few miles from the American tycoon's Menie estate and golf course.
Mr Trump stopped building work at the resort, including a potential second golf course, in February.
He said it would not resume until the proposals to build the wind turbines were off the table.
The tycoon had claimed the £230m wind farm development would spoil the view from his complex.
In a statement, the New York-based Trump Organisation said: "It is a disgrace that the Scottish government has recklessly disregarded the health and safety of the Blackdog residents and ignored the fears of Aberdeenshire Council.
"We intend to pursue a separate legal challenge to this decision and will continue to fight it in the Court of Session and beyond. This matter will be in court for many years to come."
Those behind the Blackdog project have welcomed the decision, saying it was good news for the offshore wind industry.
Aberdeen Offshore Wind Farm Limited previously said it would be looking to connect to the grid in 2017.
Welcoming the substation decision, WWF Scotland director Lang Banks said: "It's great to hear that this development can now move forward.
"Once up and running, this test facility would be ideally placed to help test the technologies needed to harness the huge offshore renewables potential, ensuring learning by industry, and playing an important role in helping to drive down costs."