Orkney goose population control project to continue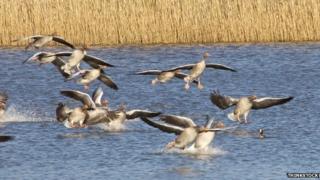 A project to control the goose population in Orkney has been renewed for a third year.
Local residents will be licensed to shoot greylag geese, with the meat available for sale at shops on the islands and online.
The population of greylag geese nesting in the area has increased over the last 20 years, but shooting in recent years has helped keep numbers down.
The Scottish government says the scheme benefits local farmers and the economy.
Last year, 5,844 resident greylag geese were shot, and a target of 5,500 has been set for this year.
More than 20,000 of the birds nest in Orkney each summer, and shooting is carried out in August and September before migratory birds arrive from Iceland in October.
The population control project is part of a pilot being trialled in Scotland by Scottish Natural Heritage (SNH) and the National Goose Management Review Group.
'Careful management'
Minister for Environment and Climate Change Paul Wheelhouse welcomed the third year of the pilot.
He said: "The project provides a major role for Orkney farmers in the careful management of goose numbers.
"We have listened to the concerns of farmers and land managers in Orkney about the effect that greylag geese and in particular the resident population of the species are having on crops and arable land.
"The project also has the benefit of providing a boost to the local economy through the licensed sale locally and online of goose meat."
Gail Churchill, Orkney operations manager for SNH said the project was a proven way of sustainably reducing goose numbers while providing a boost for local shops and the Orkney economy.
She added: "The work will be undertaken by experienced local shooters following established best practice methods, and overseen by Scotland's Rural College staff."