Jewellery shop raided on Aberdeen's Union Street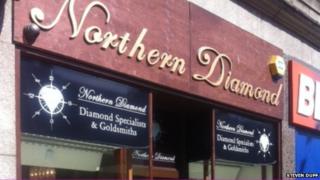 A man in his thirties is being hunted by police after a £20,000 robbery at a jewellery shop in Aberdeen.
The thief grabbed two rings and a bracelet from the Northern Diamond store on Union Street before fleeing in the direction of Golden Square.
He is described as eastern European and has black hair. He was wearing jeans, trainers and a blue jacket with a white stripe across the chest.
A member of staff received a minor injury during the incident.
Police Scotland, who were alerted to the robbery at 09:28, described it as an "opportunistic theft" and are appealing for witnesses.
Northern Diamond's owner, Oscar Ozdaslar, said: "He grabbed into the window. We wrestled. He ran out of the door.
"I did not expect this. I am shocked."