New plan for Donald Trump golf clubhouse at Menie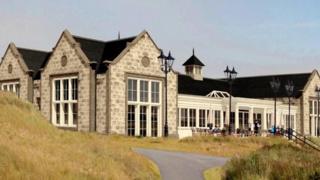 Donald Trump wants to spend millions of pounds creating a new clubhouse at his Aberdeenshire golf course.
Plans for the Menie Estate show a scaled down version of the much bigger building which the Trump Organisation gained planning permission for in 2012.
The businessman insists work on a hotel and a second course will only begin if an 11-turbine wind farm off the coast is rejected.
He claims it would spoil views from the course.
The clubhouse plans have been lodged with Aberdeenshire Council.
A substation to export electricity from the £230m wind farm development was recently approved.
Developers won an appeal against an Aberdeenshire Council decision to reject the substation proposal.
Aberdeen Offshore Wind Farm Limited previously said it would be looking to connect to the grid in 2017.