Aye, aye cap'n: Scots under the sea in film and TV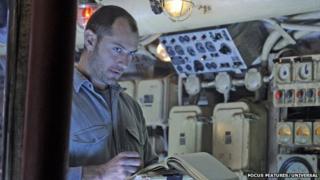 Actor Jude Law has adopted a Scottish accent for one of his latest film roles.
In Black Sea, the actor plays a commercial submarine captain who leads a motley crew on a hunt for a sunken ship and its cargo of gold.
Here BBC News Scotland dive, dive, dives into some more detail on Law's upcoming thriller, and Scotland's other links to undersea stories in literature, TV and film.
Das Boot to furry boots?
Due for release in cinemas next month, Black Sea is directed by Glaswegian Kevin Macdonald.
The director's previous features include The Last King of Scotland starring Forrest Whittaker and Scots actor James McAvoy.
Macdonald shot scenes for his 2012 historical adventure, The Eagle, around Achiltibuie and Old Dornie, near Ullapool. Locals also had roles as extras.
Black Sea is being made by Universal, Focus Features and Film4. It continues the movie industry's love for action under the sea with previous sub ventures including 20,000 Leagues Under the Sea and Das Boot.
Film4 describes Law's role as a "rogue submarine captain" who pulls together a misfit crew after being laid off from a salvage company to go after a sunken treasure rumoured to be lost in the depths of the Black Sea.
"As greed and desperation take control onboard their claustrophobic sub, the increasing uncertainty of the mission causes the men to turn on each other to fight for their own survival," Film4 added.
Black Sea also stars Scoot McNairy - recently seen in the Ben Affleck and Rosamund Pike starrer Gone Girl - and Jodie Whittaker, who played Beth Latimer in the TV series Broadchurch.
Law is well-known for portraying Dr Watson opposite Robert Downey Junior's Sherlock Holmes in two movies on the fictional sleuth directed by Guy Ritchie.
The actor also starred in eXistenZ and war film Enemy at the Gates.
Law, from south east London, plays Black Sea's Captain Robinson.
UK film magazine Empire has said he delivers his lines in a "convincing" Aberdeen accent.
The Aberdeen Evening Express, however, has been less than impressed.
The actor does not attempt any Doric, a distinct dialect of the Scots language spoken in north east Scotland.
Doric phrases include "far aboots are ye fae?" meaning "whereabouts are you from?" The words "far aboots" are often misheard as being "furry boots".
Frozen asset
The submarine Cold War thriller Ice Station Zebra was published in 1963.
It was among the many novels written by former Royal Navy seaman Alistair Maclean.
Born in Glasgow, he was brought up in Daviot near Inverness and as a child spoke both English and Gaelic.
Hollywood has frequently drawn on Maclean's works for movie adaptations.
The film Ice Station Zebra hit cinemas in 1968 and starred Rock Hudson, Ernest Borgnine and Patrick McGoohan.
"Up perishcope"
After fighting the Soviets as British spy 007, Sir Sean Connery played a USSR submarine commander in 1990's Hunt for the Red October.
The Edinburgh-born actor is Marko Ramius, the USSR's best submarine captain who, in the newest boat, disregards his orders and sails for the USA.
Alec Baldwin's CIA analyst Jack Ryan is sent to hunt Ramius down to determine whether the rogue commander is trying to defect or start World War Three.
The movie was adapted from a novel by Tom Clancy.
Its US director John McTiernan, who made Die Hard and in 2010 was jailed for a year for lying in a wiretapping case, is reported to be a fan of the late Dunfermline-born Iain Bank's science fiction novels.
"Jumping jellyfish"
Cbeebies' series Octonauts follows a team of animated characters who go to the aid of troubled sea life in their submarine the Octopod.
The cartoon cast include a scientist called Dr Shellington, a sea otter who speaks with a Scottish accent and has the catchphrase: "Jumping jellyfish".
The children's television series has inspired a project aimed at encouraging more people to explore Scotland's marine life.
Staff at Scottish Natural Heritage (SNH) noted how much children were learning from the programme about real-life fauna and flora.
SNH then set about using animation to show Scottish wildlife and habitats.
By early 2011, agency staff had completed a pilot project to produce an interactive virtual dive using computer animation, real survey data, photographs and video footage.
The pilot showcased the Loch Sunart Special Area of Conservation (SAC), which is now also a Marine Protected Area (MPA).
Using the latest technology, SNH has now gone on to produce a virtual experience for an MPA covering the Small Isles - Eigg, Rum, Canna and Muck - and also the Sound of Barra.