Orkney corncrake numbers in 'amazing' bounce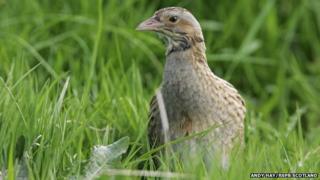 Corncrake numbers in Orkney have seen an "amazing" bounce, RSPB Scotland has said.
The charity said it had been feared numbers could reach an all-time low this year.
However 36 male birds were recorded calling this summer, the highest number since 1996 and a three-fold increase from last year, with 16 of those on Westray.
RSPB Scotland said the rise was "unprecedented".
The Orkney Corncrake Initiative was set up in 1993 - when there were only six calling corncrakes - to help protect the corncrake population by providing more safe places for them to breed when they return.
The initiative offers payments to farmers who have calling corncrakes on their land to support corncrake-friendly farming practices.
Corncrake officer Inga Seator said "We were expecting very few birds to return this year because corncrakes have a very low survival rate and we heard just 12 across the whole of Orkney last year.
"Amazingly, this year, there were 16 calling on Westray alone.
"The birds have bounced back from previous lows but such an increase from one year to the next is unprecedented."
She explained: "Corncrakes need tall grass where they can safely raise a family, so leaving silage fields uncut or ungrazed until August gives them a chance to have at least one successful brood.
"Cutting fields from inside out also gives the birds an opportunity to escape, as the corncrakes don't like to break cover so traditional cutting methods often trap corncrakes in the middle of the field.
"Farmers across the county have been very supportive."