Fresh 'perfect storm' concern over Aberdeen A&E staffing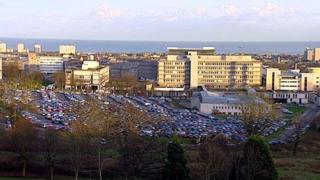 Accident and emergency consultants have warned NHS Grampian for a second time that Aberdeen staff shortages are at risk of endangering patient safety, BBC Scotland can reveal.
One medic described the situation as a "perfect storm".
The health board had been told in June of concerns doctors would not be able to provide the safe care of patients because of staffing.
NHS Grampian said Aberdeen Royal Infirmary faced "staffing challenges".
A group of A&E consultants asked to address board members at a meeting in Aberdeen earlier this month to repeat their warning.
BBC Scotland understands they told the board they were still overworked and that weekends were a particular concern.
'Fully covered'
An NHS Grampian spokesperson said: "The ED department at Aberdeen Royal Infirmary continues to face staffing challenges.
"This situation is not unique to Aberdeen. There are complex challenges to bringing a sustainable resolution to Emergency department staffing across Scotland and these have been widely publicised.
"But we remain committed to restoring and enhancing staffing in our emergency department and we assure the people of Grampian that we are committed to providing this service."
The spokesperson added: "We have successfully recruited middle grade capacity and have secured locum consultant and middle grade staff. Further out of hours middle grade staff support is also in place.
"Recruitment efforts are continuing for consultant and middle grade staff. In the meantime our A&E staff are working very hard and committing additional time to maintain a safe level of response.
"This has ensured that all shifts for this weekend are fully covered."