Aberdeen bus routes targeted during Kelli Ferris search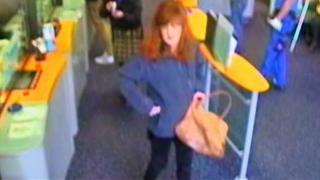 Police searching for a missing Aberdeen woman have been targeting bus routes in the city centre, three weeks after she vanished.
Kelli Ferris, 40, who has a medical condition, was last seen on Castle Street, near the sheriff court, on the evening of Wednesday 10 September.
Police Scotland had officers in the Castlegate area on Wednesday evening.
They were focussing on bus routes and speaking to passengers in the hope of getting information.
It is thought she may have boarded either a number 13 or 15 bus on Union Street.
Det Supt Mark Cooper, who is leading the inquiry, said: "It's now three weeks since Kelli was last seen and as time goes on we are increasingly concerned for her welfare.
"Our officers will be stopping and speaking to people in around the junction of Castle Street / Union Street where we think Kelli may have possibly got on a bus heading for either the Seaton or Footdee areas.
"We're hoping to jog people's memories and asking anyone who regularly passes through this area or who takes the number 13 or 15 buses - did you see Kelli in this area or on one of these buses three weeks ago?
"Kelli would have been distinctive as she has long, bright red hair. She was also unsteady on her feet, had the look of someone who was unwell and may have looked disorientated.
"This has been an agonising three weeks for Kelli's family and they are understandably desperate for any information about where she may be."