Kelli Ferris search: 'New sightings' of missing Aberdeen woman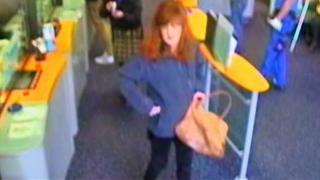 New possible sightings of an Aberdeen woman missing for more than three weeks have emerged.
Kelli Ferris, 40, who has a medical condition, has been missing since 10 September.
Police Scotland said a woman matching her description was seen getting into a taxi on Golf Road at about 20:30 that evening.
The woman was then seen getting out of the taxi on the Beach Esplanade near Burger King at about 20:40.
Det Supt Mark Cooper, who is leading the enquiry, said of the Esplanade sighting: "We know that at that time of the evening the area was likely to have been busy with people walking dogs, jogging or going to the restaurants and cinema nearby.
"We'd ask anyone who may have been in the in the area on Wednesday 10 September who may have seen a very distinctive looking lady walking along the esplanade to come forward.
"We know that Kelli had been unwell so she may have appeared to be a little unsteady on her feet, which again would have made her more noticeable."