Frankie's Fish and Chips in Shetland in running for UK Seafish award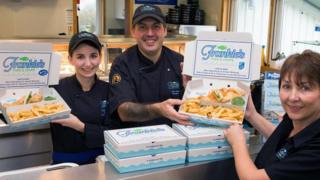 A Shetland fish and chip shop has been named Scotland's best and is now in the running for the UK title.
Frankie's Fish and Chips in Brae is one of 10 shops shortlisted for the top prize in the 2015 national awards organised by Seafish.
The owners of Frankie's said it was "great" news to be named Scotland's best for the second year running.
The overall UK winner will be announced at an awards ceremony in London on 20 January.
Frankie's was the UK runner-up last year.