Aberdeen councillors approve Marischal Square development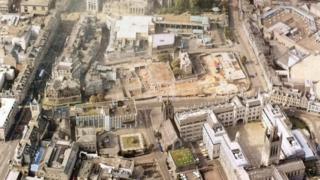 The controversial Marischal Square development in Aberdeen has been approved by councillors.
The hotel, office and retail project will be built on the site of the former St Nicholas House opposite the historic Marischal College.
One opposition councillor described the development as a "blot on the landscape".
Another councillor said it had the potential to be a "new beating heart" for the city.
Developers Muse plan to build a hotel and office complex on the city centre site following the demolition of St Nicholas house.
The £107m plan also includes building shops and restaurants.
More than 1,000 council staff vacated the 14-storey St Nicholas House building, which was erected in 1968, for the newly-refurbished Marischal College building in 2011.