New Speyside distillery to start producing this month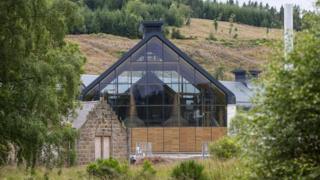 Production at a new malt whisky distillery in Speyside will begin this month, its owners have said.
The French-owned Chivas Brothers Ltd, part of Pernod Ricard, have built it on the site of a former distillery near Carron in Moray.
The new distillery has been named Dalmunach after a nearby pool in the River Spey.
When operational, it will be capable of producing up to 10 million litres of spirit a year.
The architecture was inspired by the shape of a sheaf of barley, the core ingredient of single malt whisky.
The distillery has eight copper pot stills, with a tulip shape used for the wash stills and an onion shape used for the spirit stills, replicating those from the Imperial distillery which was situated on the site until 2012.
Chivas said that, in a departure from distillery traditions, the stills have been positioned in a circular design that provides "a unique aesthetic for the future".
Other original features from the previous distillery have been incorporated, including red bricks which have been used to create a feature wall in the entrance area.
Laurent Lacassagne, chairman of Chivas Brothers, said: "As global demand for Scotch whisky increases year on year, our confidence in the long-term growth prospects for the category remains strong.
"The construction of the new Dalmunach distillery is a clear demonstration of our confidence and also of our commitment to invest to meet the significant growth potential."