NHS boss insists A&E patients in Aberdeen "are safe"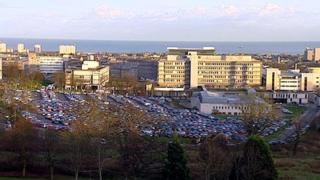 The chief executive of NHS Scotland has insisted that patients coming to Accident and Emergency at Aberdeen Royal Infirmary are safe, amid concerns over staff shortages.
Paul Gray met with emergency care consultants at NHS Grampian after the board's chairman resigned.
Bill Howatson warned of "significant challenges" as he stepped down.
However, Mr Gray said the board "performs well" and there was a "strong commitment" to maintaining that.
A&E consultants told bosses last month that staffing shortages at ARI could put patients at risk.
Mr Howatson stepped down on Tuesday after seven years on the board, saying the challenges facing the board were best tackled by new management.
During a two-day visit to NHS Grampian, Mr Gray said patients should have no fears about attending A&E at ARI.
He said: "They are safe. In fact the published data shows that Grampian performs well in comparison with other boards in Scotland and beyond.
"The real focus here it to make sure that's maintained and that patients and carers and families in Grampian are assured that there's a really strong commitment to maintaining that."