Baby Alexis Matheson murder: Mark Simpson seeks case review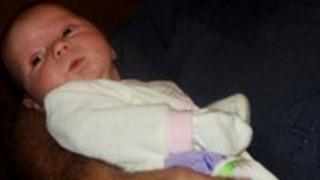 A man convicted of murdering a six-week-old baby in Aberdeen is seeking to have the case reviewed.
Mark Simpson was jailed for a minimum of 20 years for killing his then-girlfriend's daughter Alexis Matheson by assaulting her in 2007.
Simpson had lived with the baby's mother Ilona Sheach.
He has now applied to the Scottish Criminal Cases Review Commission (SCCRC) to look into his case. The SCCRC confirmed the application.
Simpson was found guilty in November 2010 of the murder of baby Alexis by shaking her to death.
A major review into the case concluded in 2012 that her death was not predictable from the information available to medical staff at the time.