Corroded pipe spotted five years ago caused leak on Talisman's Saltire platform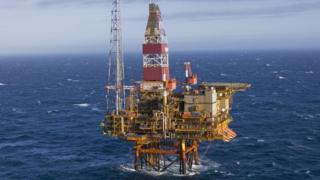 A gas leak on a North Sea platform was caused by a corroded pipe which was first spotted five years previously.
Talisman Sinopec said the gas leak on the Saltire installation happened on 8 August.
Following the incident, the Health and Safety Executive (HSE) served the company with an improvement notice.
The HSE said the operator had not acted on its own inspection report from 2009 which highlighted significant external corrosion.
No injuries
It said the gas had leaked through a hole that had formed through the side wall of a pipe, which resulted in a risk of fire of explosion.
A Talisman Sinopec spokesperson said: "None of our personnel was injured as a result of the release and the installation, which was not in full production at the time, was shut down in a controlled manner.
"A full inspection was carried out to ensure the cause of the issue was identified, along with any remedial actions required to prevent a re-occurrence.
"The safety of our people is of paramount importance and eliminating hydrocarbon releases remains a top priority for our company and for the energy industry as a whole."