Orkney's war heritage on new VisitScotland website pages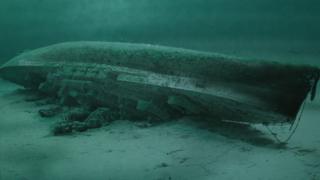 People are being encouraged to explore Orkney's wartime heritage via dedicated new pages on VisitScotland's website.
Scapa Flow and the Italian Chapel are just two of the sites seen as of importance.
Scapa Flow is where German ships were scuttled to stop them falling into British hands, and the ornate Italian Chapel was built during World War Two by Italian prisoners of war.
The new drive comes after weekend Armistice Day commemorations.
The exploration of Scapa Flow vessels is popular among visiting divers.
Scapa Flow also witnessed the loss of 834 lives following the sinking of HMS Royal Oak when the British battleship was torpedoed by a German submarine in 1939.
Another of Orkney's wartime sites is the Kitchener Memorial, which commemorates the sinking of HMS Hampshire in 1916 that resulted in the loss of more than 650 lives, including the Minister of War, Lord Kitchener.
Barbara Foulkes, island manager for VisitScotland, said: "On Armistice Day and in the year of the 100th anniversary of start of the First World War, we pay particular tribute to this distinct chapter in Orkney's history.
"Our heritage sites from both world wars allow locals and visitors to feel a deeply rooted connection to the past and to contemplate the overwhelming significance of the conflicts on our beautiful islands."