Aberdeen Royal Infirmary visited by Health Secretary Alex Neil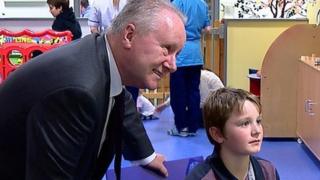 Health Secretary Alex Neil has visited Aberdeen Royal Infirmary against a background of upheaval at NHS Grampian and concerns over patient safety.
A review of care at the hospital is under way, and there have been significant changes at the top of the health board.
Mr Neil was meeting management, patients and staff.
These included emergency consultants, some of whom went public with their fears about staffing shortages.
A Healthcare Improvement Scotland review of care at the hospital is due out in the coming weeks.
The chief executive of NHS Grampian, Richard Carey, last month announced his early retirement.
'Challenging period'
It came a fortnight after the resignation of health board chairman Bill Howatson.
Mr Neil said: "Following a challenging period for NHS Grampian, it is important now that we focus on the future and support the incoming new leadership at the health board to continue to deliver high quality health services for patients in the Aberdeen area."
In September, casualty consultants raised concerns about staffing shortages at Aberdeen Royal Infirmary, with one medic describing the situation as a "perfect storm".
It was the second time doctors had voiced concern, after saying in June they would not be able to guarantee the safe care of patients because of staffing levels.
At the time NHS Grampian bosses said they were working hard to resolve the situation.