Call for Aberdeen Royal Infirmary report release 'urgency'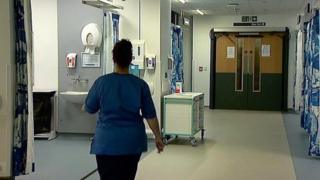 An expert report into general surgery at Aberdeen Royal Infirmary should be made public as a matter of urgency, an MSP has said.
Labour's Lewis Macdonald has written to the outgoing chief executive of NHS Grampian, Richard Carey, asking him to release the review.
It was carried out by the Royal College of Surgeons of England, after being commissioned by the health authority.
NHS Grampian said it intends to make the report public in due course.
Mr Macdonald said: "We all know there are issues in NHS Grampian, and in relation to how people work together.
"We need to see that (report) quickly."
No comment yet
An NHS Grampian spokesman said: "The report from the Royal College of Surgeons of England - commissioned by NHS Grampian - is being studied by members of senior management and the general surgeons.
"It is our intention to make this report public in due course. Until then we will not be making any comment on its contents."
Health Secretary Alex Neil visited Aberdeen Royal Infirmary earlier this week against a background of upheaval at NHS Grampian and concerns over patient safety.
Chief executive Mr Carey last month announced his early retirement.
It came a fortnight after the resignation of health board chairman Bill Howatson.