Airport reopens after security alert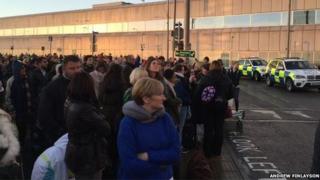 Edinburgh Airport has reopened after a security alert saw hundreds of passengers being evacuated.
The alarm was raised after a suspicious object was detected in the screening area.
But the incident was later said to have been a false alarm, and passengers were allowed to return to the terminal building.
Some flights to the airport were diverted, while others have been delayed.
A spokesman for Police Scotland said: "Operations at the airport have now returned to normal and those within the building are thanked for their patience and co-operation.
"Police Scotland can now confirm that the object found at Edinburgh Airport has now been inspected and is of no danger to the public."
An airport spokesman said operations were returning to normal after the security alert.
He added: "The safety of our passengers and our staff is at the heart of what we do and we thank passengers for their patience as we resolve this situation.
"Our team is now working hard to ensure any disruption to journeys is minimised."