NHS Grampian reports: Key points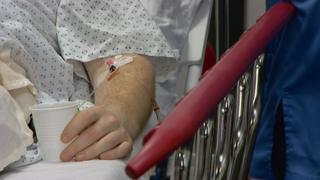 Three reports into health care in the north-east of Scotland have highlighted "extremely serious" issues and "make stark reading" for NHS Grampian.
Healthcare Improvement Scotland (HIS) conducted a review of Aberdeen Royal Infirmary and also an unannounced inspection of services for older people in acute hospitals in the NHS Grampian region.
A separate review from the Royal College of Surgeons looked at General Surgery.
ABERDEEN ROYAL INFIRMARY
Leadership and culture
The HIS review said there were weaknesses in the leadership and management of the health board, the executive team and the senior management team.
It said a small number of consultants had acted to undermine management and exhibited poor behaviour.
The board was insufficiently aware of the problems facing Aberdeen Royal Infirmary, especially in the emergency department.
In some departments at Aberdeen Royal Infirmary the review heard of low morale, disengagement from management and a forceful style of management which some said was "bullying".
The review also heard of difficulties in transferring patients from the emergency department to wards.
It said senior doctors needed to accept that managers had the right to manage and a legitimate expectation that clinicians co-operated with change.
Governance and accountability
The review said some systems of accountability, governance and performance management within Aberdeen Royal Infirmary were "absent or weak".
The management team, which is seen as remote by frontline staff, went four months without having a formal meeting.
Minutes of the meetings which did take place suggested that the management team did not consider data or make meaningful decisions.
This was of "significant concern" given the known issues with scheduled surgery, cancer waiting times, nurse staffing and the emergency department.
The executives gave the impression that they believed the problems that Aberdeen Royal Infirmary faced were due to external factors and not management issues.
A common complaint was that emails and letters to managers raising important concerns went unanswered and unaddressed.
Actions were not taken until a crisis was imminent and then senior managers were drawn in to "fire-fight" and that responses were "knee jerk".
Staff governance
The review said there were considerable staffing difficulties, particularly within the emergency department at Aberdeen Royal.
It said it recognised that there was difficulty nationally in recruiting at both consultant and senior trainees in A&E.
However, the review said that depending on cover by registrars from other departments, who may not be trained in emergency or trauma medicine, was not sustainable.
The arrangements are considered by many staff to be unsafe.
According to HIS, the board appeared unaware of the depth of the developing crisis in the emergency department.
The review said it was unsurprising that doctors who experienced poor training and an unsupportive atmosphere choose to find consultant jobs elsewhere and do not recommend Aberdeen as a place to work to their peers.
CARE FOR OLDER PEOPLE IN ACUTE HOSPITALS
Treating older people with compassion, dignity and respect
The management of patient flow and capacity in Aberdeen Royal Infirmary and Woodend Hospital is not fit for purpose and puts patient safety at risk.
The review witnessed inappropriate language being used to describe patients, such as referring to them by their bed number or as 'decants' - a term used by NHS Grampian to describe when a patient is moved from one ward to another.
Nursing staff were seen spending considerable time trying to resolve and follow-up problems with patient flow.
However, senior management and senior clinical staff had little involvement and gave little support to nursing staff in these issues.
There were examples of patients with cognitive impairment or dementia being "boarded" on other wards in Aberdeen Royal Infirmary.
"Boarding" on other wards can lead to delays in medical care for patients, including pain relief, fluids or providing a discharge letter because their doctor will be on a separate ward.
Discharge
Ineffective processes are affecting timely discharge.
Staffing
The review said the care provided in Aberdeen Royal Infirmary was only possible because of medical and nursing staff's commitment and dedication in repeatedly covering gaps.
It was concerned about the sustainability of safe patient care and the impact on staff wellbeing.
Staff said wards were continually short staffed.
Ward staff were under pressure and being asked to deliver care in extremely difficult circumstances.
Staff regularly work more than their contracted hours.
When on duty, they are unable to leave the ward for breaks.
Documentation
Not all documentation seen was easy to read because some documents were poor quality photocopies rather than printed copies of assessments.
Staff said they did not always have time to complete documentation because of pressures from staffing shortages.
GENERAL SURGERY SERVICE REVIEW
The Royal College of Surgeons of England review team, which was brought in by NHS Grampian medical director Dr Roelf Dijkhuizen earlier this year, found no information that the General Surgery Service at Aberdeen Royal Infirmary was unsafe.
However, there were concerns about the lack of team-work or the breakdown in functional relationships with some consultant surgeons.
Other concerns related to surgeons not attending case meetings and data being reliably gathered.
Concerns were raised about the professional conduct of some of the general surgeons.