Checks ordered on 'helicopter fault' which could lead to doors jamming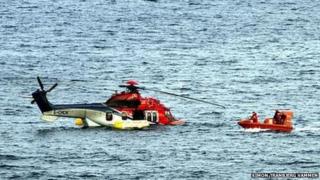 Checks were ordered on some North Sea helicopters after the discovery of a fault which could cause emergency exits to jam.
The European Aviation Safety Agency (EASA) identified a fault on some Airbus aircraft.
Corrosion from undrained water was causing the doors on some Super Pumas to stick.
The report says a door failed to be jettisoned on a recent test inspection because of corrosion.
It says the problem could obstruct the safe evacuation of passengers in an emergency, such as a ditching.
The manufacturer was ordered to carry out an inspection within three months for older aircraft and 15 months for newer ones.
Short timescale
Helicopter manufacturer Airbus said it had already carried out tests on its fleet of Super Pumas affected by the directive.
A British Airline Pilots' Association (Balpa) spokesman said: "The Airworthiness Directive has been issued as a result of an unusual failure of an aircraft to pass the jettison test and is intended to ensure that there is not a wider problem throughout the fleet by a special inspection of the jettison system.
"The jettison test is carried out on a flying hour basis, and most aircraft in regular use will have it done about twice a year.
"The directive will ensure that any aircraft not in regular use is inspected within a reasonably short timescale of three months before any excessive corrosion can develop."