'My friends call me The Magnet': Treasure hunter reveals ancient find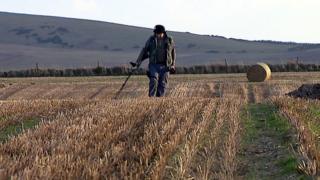 "Several of my friends call me The Magnet."
Metal detectorist Alistair McPherson has a nose for finding treasure.
"I seem to have a third sense when it comes to fields", he said.
Together with a team of archaeologists, Mr McPherson discovered a hoard of Roman and Pictish silver in a farmer's field. It has been hailed as the most northern of its kind in Europe.
Until now, the specific location of the discovery in March 2013 has been a closely guarded secret.
But BBC Scotland can reveal it was found at Gaulcross, near Fordyce, in Aberdeenshire.
Mr McPherson explained how he found it.
"I had a really good feeling about this. I was working with Oskar, the archaeologist who told me that this is an area he wanted to search.
"I searched for three quarters of an hour - nothing. So I went about 50 yards and bang - I got a Roman coin."
The coin was the first of many finds for the team.
More than 100 pieces of silver were unearthed, including coins, brooches and bracelets. Most of the objects were found in pieces, or folded in to small parcels.
The hoard is now being researched and catalogued by experts at National Museums Scotland.
Dr Martin Goldberg, senior curator of early historic collections, said: ''It's going to allow us to understand other hoards that are already in the National Collection.
"It sits in to a nice gap between two existing hoards and so we can look at silver as a sequence of how it's being used and recycled over several centuries."
This has been described as an important find, especially for the Northern Picts Project, based at the University of Aberdeen.
Dr Gordon Noble, senior lecturer in department of archaeology, said: "The north east of Scotland is very rich in its heritage and we've been working on a number of Pictish sites, including our work at Rhynie, which appears to be an early royal centre of the Picts.
"At Rhynie, we're actually finding metal working moulds, exactly the kind of items that would be used to make some of the items that we've found in the hoard here.''
"We're a very new department at Aberdeen, we're only seven years old." said Dr Noble. "We're only just beginning to examine the heritage in the area. So undoubtedly, there will be more finds like this."
The team has returned to Gaulcross several times since the initial discovery in 2013. They want to be certain that no remaining metal pieces have been unearthed after the field has been ploughed.
Mr McPherson said: "I've spent a year in this field. I've had 10-hour searches and I'm quite positive there's just nothing left to find."
He said it has been a rewarding experience.
"The best memory I have is finding the lunar pendant. The coins are not personal. But to actually find something that somebody wore - a personal item - that's exciting.
"To actually find something personal that's 900 years old is brilliant."
Elements of the hoard will be on display for the first time at the University of Aberdeen from 20 January to 31 May.