Frankie's Fish and Chips in Shetland wins UK Seafish award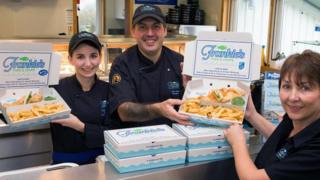 A Shetland fish and chip shop has been named the UK's best.
Frankie's Fish and Chips in Brae was one of 10 shops shortlisted for the top prize in the 2015 national awards organised by Seafish.
Frankie's was the UK runner-up last year.
The Good Catch Award or "impeccable sourcing of sustainable seafood" also went to Frankie's this year, at the awards ceremony in London.