'No penalty' to cancel Marischal Square development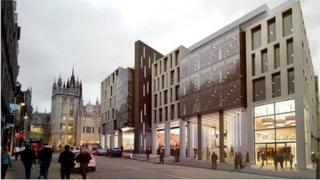 Aberdeen City Council has said there would be no financial penalty associated with cancelling the Marischal Square development.
Finance convenor Councillor Willie Young had said there would be a cancellation fee of about £100m if the project was scrapped.
The council now says there would be a risk of legal action if it was halted - but no immediate penalty fee.
The BBC understands Mr Young had used the "wrong terminology".
At the weekend, several hundred protesters formed a human chain around the site of the proposed £107m office, retail and hotel project.
Planning permission for the development was granted in October.
Developers Muse said it would be a "world-class development", but protesters fear it will block the view of the historic Marischal College and Provost Skene House.
The project will be built on a city centre site created by the demolition of St Nicholas House.