Shetland celebrates Up Helly Aa Viking fire festival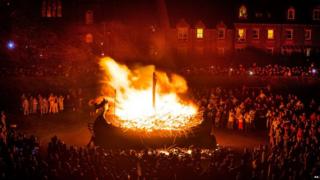 Shetland's annual Up Helly Aa fire festival has been celebrated, culminating in the burning of a replica Viking ship.
The spectacular event celebrating Shetland's Viking heritage was held in Lerwick on Tuesday.
A band of latter-day Viking warriors known as the Jarl Squad marched through the town, recreating its history.
Hundreds processed with flaming torches which were thrown into a longship that had been dragged through Lerwick.
Volunteers had built the boat and produced more than 1,000 torches, with preparations for the event beginning in October.
Were you in Shetland for Up Helly Aa this year? Send your pictures to BBC Scotland at newsonlinescotland@bbc.co.uk
Please ensure when filming or photographing an incident that you make your safety and the safety of others a priority.
If you submit an image, you do so in accordance with the BBC's Terms and Conditions.