Councillor defends Marischal Square '£100m penalty' claim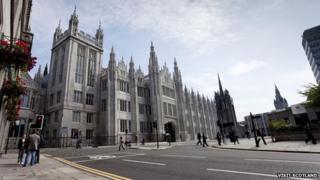 A senior Aberdeen councillor has defended his claim that pulling out of the Marischal Square development could have cost the authority £100m in cancellation fees.
Finance convenor Willie Young made the claim in a BBC Scotland interview earlier this month.
The council said on Monday said there would be no financial penalty.
Mr Young said at the time he said it he had understood the council still owned the property in question.
Planning permission for the development was granted in October.
Developer Muse has said it would be a "world-class development", but protesters fear it will block the view of the historic Marischal College and Provost Skene House.
At the weekend, several hundred protesters formed a human chain around the site of the proposed £107m office, retail and hotel project.
The project will be built on a city centre site created by the demolition of St Nicholas House.
Mt Young told BBC Scotland of his original claim: "I absolutely stand by that because at the time that was said it was my understanding that we were still the owners of the property.
"However we have now transferred the property to Muse Developments.
"It's unfortunate that when I said that, that I wasn't in possession of all of the facts."