Aberdeen councillors 'warned over referendum letter'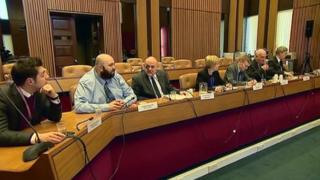 Aberdeen City Council's senior legal advisor warned councillors they could be breaking the law by sending a letter supporting an independence referendum "No" vote, an inquiry has heard.
The letter was sent with council tax bills last year.
Five Labour and two Conservative councillors are facing a Standards Commission hearing.
Jane McEacheran, the council's senior solicitor, said she raised concerns on a number of occasions.
Ms McEacheran's written advice included concerns it would breach the Local Government Act and the code of conduct surrounding the use of council facilities for political campaigning.
Councillors eventually agreed to send the letter.
At Aberdeen Town House, the commission was examining whether the councillors broke its code of conduct.
Pulled out
They include council leader Jenny Laing and her predecessor Barney Crockett.
The hearing was adjourned to a later date after a witness pulled out of giving evidence.
Former Aberdeen City Council chief executive Valerie Watts had been due to appear before the hearing via video-link. The hearing chairman described her late call off as "disrespectful" and "bordering on contempt".
A spokeswoman for Northern Ireland's Health and Social Care Board, where Mrs Watts if now chief executive, later told BBC Scotland: "Mrs Watts is not available for interview and has no further comment to make."
The letter was sent out to council tax payers in Mr Crockett's name.
It said the city would be stronger now and in the future as part of the UK.
SNP politicians complained it was politically-motivated ahead of the independence referendum.