Cemfjord cargo ship wreck survey completed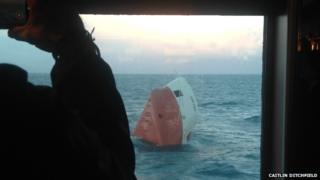 The Marine Accident Investigation Branch (MAIB) says it has now completed initial surveys of the wreck of the cargo ship Cemfjord.
The vessel is believed to have overturned in storm force winds in the Pentland Firth in January, sinking about two days later.
No trace was found of the eight crew who were onboard.
A side sonar scan and a remotely-operated vehicle (ROV) survey of the wreck have now been carried out.
A spokesman for the MAIB said that the information would form part of the ongoing investigation of the sinking.