Second protest over Aberdeen Marischal Square plan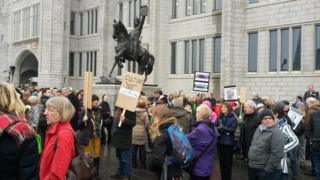 A second protest against the planned Marischal Square development in Aberdeen has been staged in the city.
Organisers of the demonstration estimated that about 1,000 people took part in the rally.
Planning permission for the £107m hotel, office and retail project was granted last year.
Those against the development have argued it will block the view of Provost Skene House and Marischal College.
They have called for a second fresh public consultation into the plans to be held.
Developers Muse said Marischal Square would be a "world-class development".
It will be built on a city centre site created by the demolition of St Nicholas House.
On Friday, Muse released a new image which showed the planned view from Broad Street of the historic Provost Skene House.
Earlier in the week campaigners against the project had released their own new images.
Last month several hundred protesters formed a human chain around the development site.
SNP Aberdeen Central MSP Kevin Stewart has called for an investigation into whether the public has been "misled" about aspects of the Marischal Square plans.