Robert Gordon University stops nurse masks training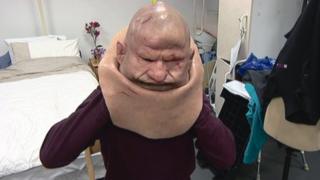 Aberdeen's Robert Gordon University has stopped using life-like prosthetic masks - designed to help trainee nurses - amid claims they could add to the stigmatisation of those with mental health problems.
The masks were worn by tutors in a bid to make teaching more realistic.
'Patients' suffered from background issues, including sexual violence and depression.
An RGU spokesman said a review was under way.
The university apologised for any offence caused by the Hollywood-style initiative, which had provoked a social media backlash.
'Impact of stigma'
The RGU spokesman said in a statement: "It was not our intention to add to the stigmatisation of people with mental health problems; in fact we continue to see simulation and role play, which includes the use of volunteer patients and actors, as a useful part of our teaching, particularly in helping students gain a comprehensive understanding of the impact of stigma.
"We intend to review our use of masks by further evaluating their acceptability and effectiveness and will again involve a wide range of stakeholders, including people with lived experience, as we have done to date in developing this approach.
"During this process we will also curtail the use of the masks out of respect for those who have expressed discomfort at their use.
"We also want to affirm that we are fully committed to educating mental health nurses whose sole focus is on improving the quality of life for people with mental health problems and apologise to anyone who took offence."
'Negative reaction'
Mental health awareness organisation See Me welcomed the review.
A statement said: "We have been in discussion with the university and understand there was significant consideration put into the development of the masks.
"However, we are very concerned that the visual appearance of the masks has the potential to increase the stigma associated with mental illness by reinforcing negative perceptions, not only in the general public, but also in the next generation of mental health professionals.
"There has been a strong negative reaction to the masks and we regret the public's reaction was not fully considered.
"We will be visiting Robert Gordon University in the near future to discuss this issue and we welcome the opportunity to work with organisations to ensure stigma and discrimination is addressed appropriately within the mental health curriculum."