Fire crews tackle blaze at Masada Bar in Aberdeen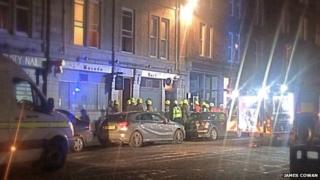 Firefighters have been tackling a blaze at a pub in Aberdeen city centre.
Crews were called to the Masada Bar on Rosemount Viaduct at about 20:12.
Customers and staff were evacuated from the building and there were no reports of any injuries.
Six fire engines went to the scene along with an incident support unit. Police closed the road while the fire was brought under control.
Have you taken any photographs or video from the scene of this incident? Send them to the BBC Scotland news website at newsonlinescotland@bbc.co.uk
Please ensure when filming or photographing an incident that you make your safety and the safety of others a priority.
If you submit an image, you do so in accordance with the BBC's Terms and Conditions.