Fresh Donald Trump Menie golf plans to be submitted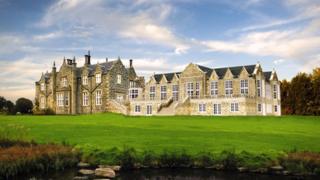 Multiple planning applications for the next phase of Donald Trump's Aberdeenshire golf course development are to be submitted.
The applications for Menie include plans for a ballroom and a 30-bedroom staff accommodation building.
Businessman Mr Trump said: "I consider what we've created at Trump International Golf Links to be one of my greatest achievements.
"We have incredible plans to further develop the site."
The applications will be submitted by the end of the week.
Plans for a new clubhouse were approved by Aberdeenshire Council last year.
The businessman previously said a hotel and second course would only proceed if a planned wind farm off the coast was rejected.
A legal challenge is still planned.