Aberdeen pupils gather news for BBC School Report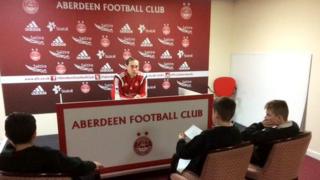 Pupils from schools in the north east of Scotland have been taking part in the BBC News School Report initiative.
Among them are pupils from Northfield Academy in Aberdeen, who spoke to Aberdeen FC player Russell Anderson at the club's Pittodrie Stadium.
The youngsters have to come up with their own television, radio and online stories.
They are broadcasting from the media centre at North East Scotland College.
The BBC's News School Report encourages students to see what it really takes to be a reporter.