Woman's driving lesson before caravan park death crash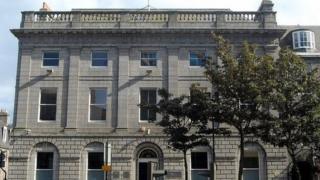 A woman has told a court how her boyfriend was teaching her how to drive minutes before their car struck a pensioner who died at a caravan park.
Kylie Johnston said she was sitting on Nathaniel Cooper's knee and steering the car before he took control.
Mr Cooper, 30, is alleged to have struck Andrew MacKay after losing control of the vehicle at the caravan park in Cumineston, near Turriff.
He denies causing death by dangerous driving.
The High Court in Aberdeen has heard that 65-year-old Mr MacKay died of chest injuries following the incident, which happened on 21 July 2013.
Ms Johnston, 26, claimed Mr Cooper told her to sit on his knee as they were on their way back to the holiday park from a garage.
She said she was scared because she had never driven a vehicle before and relied on him telling her what to do.
But she said she eventually let her former partner take control of the steering wheel after the car entered Balthangie Caravan Park at Cumineston.
'Car stalled'
Ms Johnston, of Stonehaven, said the 4x4 went out of control and crashed into a static caravan on the site.
The vehicle also struck Mr MacKay, who ended up trapped underneath his holiday home and died at the scene.
Cooper, of Inverbervie, is accused of causing the pensioner's death by driving dangerously.
Giving evidence, Ms Johnston said: "I wasn't sure to start off with, but he kept saying 'come on, come on, sit on my knee. I will teach you how to drive', tapping his legs."
Advocate depute Andrew Brown asked: "Did you get in through the driver's door?"
She replied: "On his knee. Yes.
"He was showing me the pedals down at the bottom and he told me to push my foot right down on the clutch and then the accelerator, and then lightly he said, and the car stalled three times.
"After that I was just holding on to the steering wheel."
Ms Johnston told the court that Mr Cooper took control of the steering after the car veered too close to a building on the site.
'Out of control'
She said: "I really relied on him, I didn't know what I was doing.
"Everything happened so quick. The car was going about all over the place and everything.
"The car was going out of control. I was trying to find the brake and remember what he had told me."
Ms Johnston, who is 4ft 11in tall, said she slid down to find the pedals before the car crashed into the caravan.
The jury has heard that she previously pleaded guilty to a charge relating to the case and the plea was accepted by the Crown.
The trial continues.