Conservative and Labour party offices vandalised in Aberdeen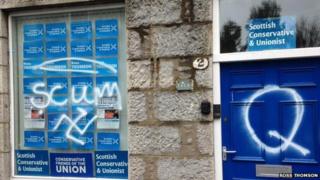 Police Scotland are investigating after Labour and Conservative offices in Aberdeen were vandalised.
Offensive words and symbols were painted on the buildings between Friday evening and Saturday morning.
The Conservative office in West Mount Street was vandalised with the word "scum", a swastika and the letter "Q" in white spray paint.
The letter "Q" was also painted on the door of the Labour party office in nearby Rosemount Place.
A Police Scotland spokesman said inquiries were ongoing and asked anyone who saw any suspicious activity in the area to contact them.