Twenty jobs lost as X-Subsea of Aberdeen goes into administration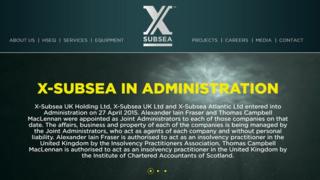 An Aberdeen-based subsea company has been placed in administration with the immediate loss of 20 jobs.
X-Subsea UK Holding and its UK subsidiaries have experienced "unsustainable losses and cash flow problems stemming from a downturn in orders".
Administrators from FRP Advisory are seeking a buyer.
X-Subsea services range from surveying to supply of specialist deep water equipment and project management.
Six employees have been retained to complete a contract, but the remaining 20 Aberdeen-based staff have been made redundant with immediate effect.
Iain Fraser, of FRP Advisory, said: "X-Subsea is the market leader in the design and supply of highly-sophisticated excavation and dredging equipment.
"The business has been badly affected by the current downturn in the oil and gas sector, and despite restructuring of the group earlier this year, income and cash flow has fallen substantially, with administration of the UK businesses being the only option.
"X-Subsea has a blue chip client base and interests in valuable intellectual property assets. We will now market the businesses and assets for sale, and would urge interested parties to contact us as soon as possible."
The UK companies have subsidiary operations in the Houston, Mexico and Singapore which are not in administration.