Condition of Aberdeen's Bon Accord baths pleases campaigners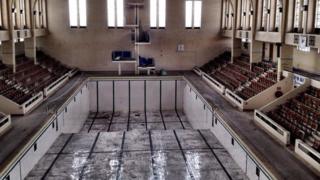 Campaigners trying to reopen Aberdeen's Bon Accord baths have expressed delight and relief at its condition after getting inside the building to see it.
The swimming pool on Justice Mill Lane closed in 2008 because of council budget cuts.
It is estimated more than £5m will be needed to refurbish the historic art deco design building.
The campaigners are nearing a £5,000 total to start a Save Bon Accord Baths fund.
Fundraising manager John Law told BBC Scotland: "It was great to get into the baths, I have to say first impressions were incredible.
"It's an amazing place, and it's in much better condition than we first thought it would likely be.
"The main structure seems to be in really good condition."