Firefighter rescue team speak of Nepal earthquake work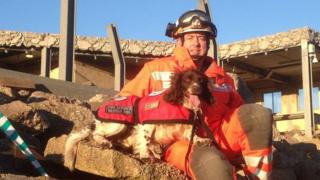 Firefighters from Scotland who helped in the search for survivors of the Nepal earthquake have been describing the devastation.
Thousands of people died in the disaster, and thousands more were injured, with many trapped in collapsed buildings.
Gary Caroll was part of the International Search and Rescue Team, alongside his sniffer dog Diesel.
Mr Caroll, of Torphins, Aberdeenshire, said they found "total destruction".
The six other firefighters were Martin Vardy from Aberdeen, Martyn Ferguson from Turriff, John Aitchison from Gourdon. Danny Gall from Kirriemuir and Steve Nicoll from Forfar.
Five-year old springer spaniel Diesel was on his first deployment.
'Close bond'
Mr Caroll said: "It was all a rush when the call came. I was looking forward to being able to help people and putting the training Diesel's had into action.
"On the ground we've seen total destruction in some of the outlying areas of Nepal - most buildings are affected in some way.
"A lot of people are under tents or covers because they are too scared to be in the buildings.
"Diesel worked well - he covered the whole area and did what he was trained to do."
He added: "I owned Diesel's mum so I've known Diesel since he was born.
"I kept him and his brother and trained them both for a year before choosing Diesel to carry on training with.
"We've got a very close bond. We've been through this together - I'm looking out for him and I think he's looking out for me."