Firefighters monitor blaze ship at Aberdeen Harbour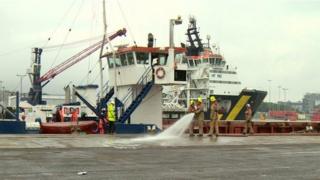 Firefighters have been monitoring a blaze on a cargo ship at Aberdeen Harbour.
The Celtica Hav was escorted into harbour on Thursday night by lifeboat after the fire was discovered a few miles offshore.
Firefighters were on standby when the ship docked, and returned again in the morning.
They use breathing apparatus to inspect the smouldering cargo. The vessel was carrying malting barley.
No-one has been injured.