Music 'to unlock dementia memories' being used across NHS Grampian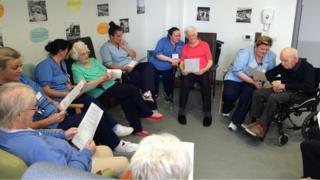 A project which aims to unlock the memories of dementia patients through music is being rolled out across NHS Grampian, BBC Scotland has learned.
The 'Playlist for Life' scheme uses familiar songs in an effort to tap into a person's long-term memory.
Personal playlists are put together with the help of relatives.
The project was established by BBC presenter Sally Magnusson, who was struck by the positive effect of music on her late mother's dementia.
'Sing hearts out'
It is believed it could be extended to help patients in other areas such as intensive care.
Jude Scott, the Playlist for Life project leader at Aberdeen Royal Infirmary, said: "Hearing is the first thing that happens to our bodies, and is the last thing to leave us.
"We are using songs that are pertinent to people."
She said some patients "sing their little hearts out".
Playlist for Life deputy chairman Andy Lowndes said: "We're delighted that NHS Grampian is rolling out Playlist For Life and also considering using it for wider patients groups."